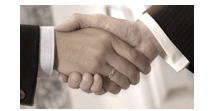 Your company needs a strong banking partner to ensure success. Unfortunately, this "partnership" is often compromised due to the fact that your assigned account manager places the interest (and profitability) of the Bank ahead of yours. Loyalty removes the competitive aspects and fosters complacency, benefiting the Bank, at the expense of your company.

Secoy's solution for businesses and their owners is accomplished by drawing on extensive experience in the banking industry. Our experts are contracted by businesses to provide advice and assess the current banking arrangements. We recommend structure and/or product enhancements that create efficiencies, reduce or eliminate conditions or collateral security and, most importantly, save money.
Secoy has an effective established rapport with all of Canada's major Financial Institutions, but Secoy works exclusively for you, the client. Businesses utilize our representation and professional proposal preparation to obtain the best value for their banking requirements available in the marketplace.


Unbiased advice and assistance for all business banking needs



Pre-qualification/structure of banking proposals



Extensive professional experience to lead or assist negotiations



Savings and simplification from your existing arrangements



Sourcing/introduction of alternative financing